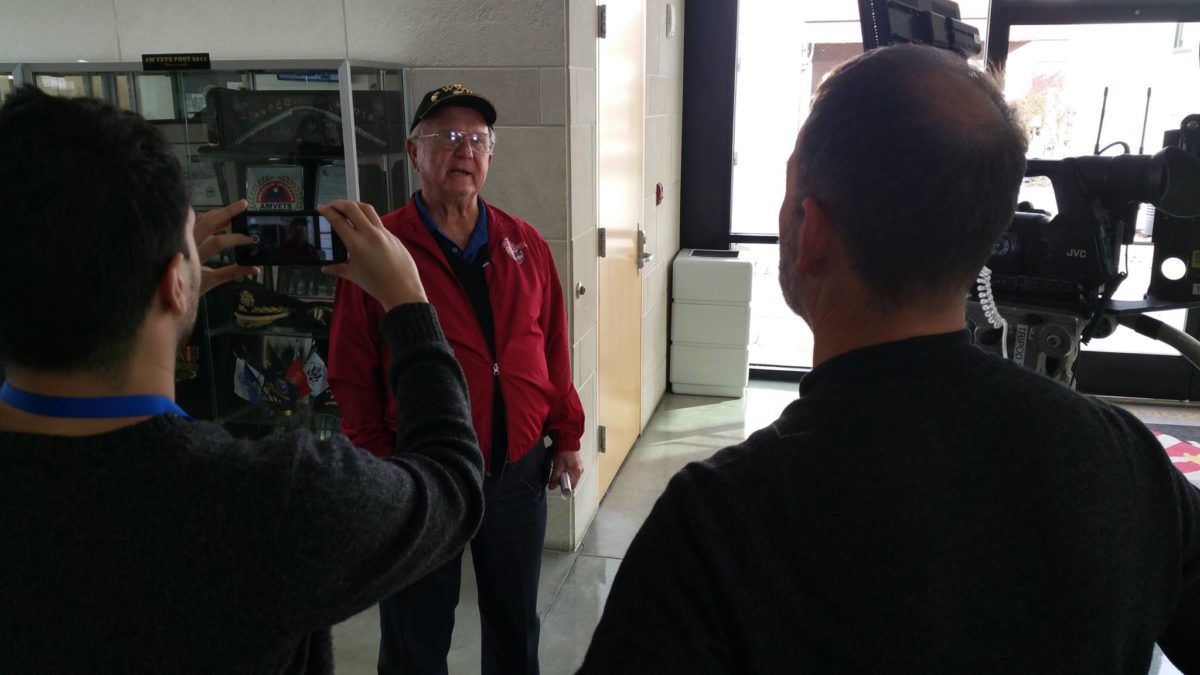 Valley Honor Flight Prepares For Trip To World War II Memorial
Since its inaugural flight in October 2013, Central Valley Honor Flight has been determined to give the Valley's World War II veterans a chance to see the national memorial built in honor of their service.
The honor flights are coming to an end this year and organizers hope to raise enough money for four more flights to Washington, D.C. And, as fewer World War II veterans are able to make the flight, organizers hope to bring more Korean and Vietnam war veterans to the nation's capital to see their own war memorials.
"When our board came together, our mission was clear – to send as many World War II veterans as we could, free of charge, to see their memorial in Washington, D.C.," said Paul Loeffler, Central Valley Honor Flight vice president.
As the honor flights come to a close in 2016, the organization is encouraging World War II veterans across the Valley to join them on the final four flights.
"WHEN OUR BOARD CAME TOGETHER, OUR MISSION WAS CLEAR – TO SEND AS MANY WORLD WAR II VETERANS AS WE COULD, FREE OF CHARGE, TO SEE THEIR MEMORIAL IN WASHINGTON, D.C."
-Paul Loeffler, Central Valley Honor Flight vice president
The nonprofit organization has raised nearly $1.5 million to fund eight charter flights of World War II veterans from the Valley to the National World War II Memorial and recently the Korean and Vietnam war veterans to their memorials, Loeffler said.
Over the course of the eight flights, more than 500 World War II veterans from across the Valley, aged 87 to 99, have made the journey to the nation's capital with guardians and a full medical staff, Loeffler said. An additional 110 veterans applied, but were either too ill or died before they could join their scheduled trip.
The number of World War II veterans has decreased yearly, Honor Flight president Al Perry said. In January 2014 alone, 12 applied. This month, only one has applied so far.
While priority always has been given to World War II veterans, more than 200 Korean War and 30 Vietnam War veterans have applied since 2013, Perry said. The organization believes it will be able to welcome many of them on the four remaining flights.
The first flight is scheduled from April 25-27, out of Fresno Yosemite International Airport, Perry said. The next flights are June 27-29, Sept. 12-14, and Oct. 24-26.
"THERE'S NO MORE MOVING EXPERIENCE IN OUR LIVES SINCE WE'VE RETURNED HOME."
-Richard "Dick" Johanson, 90, World War II veteran

Richard "Dick" Johanson interviews with local TV stations about his experience with Central Valley Honor Flight
Each trip costs around $175,000, which is about $1,500 per veteran for the charter aircraft, tour buses, lodging and meals – an expense covered by CVHF entirely through donations from thousands of individuals, small businesses and service clubs from Modesto to Porterville, Perry said.
While guardians who accompany their veteran pay $1,000 for the trip, an additional $400,000 in donations is needed for the final four trips, Perry said. Table Mountain Rancheria pledged to donate $10,000 on Monday.
Richard "Dick" Johanson, 90, a World War II veteran who served in the Pacific Theater with the Marine Corps, said he returned home from the first honor flight in October 2013 to be greeted with a hero's welcome at the airport.
"There's no more moving experience in our lives since we've returned home than that," Johanson said.
Johanson also was moved by receiving notes on the trip written by school children thanking veterans for their sacrifices.
He urged people who had World War II veterans as relatives to take the trip and be a guardian.
Originally Posted on Fresno Bee:
Paul Schlesinger: 559-441-6659, @PaulSch_Photog